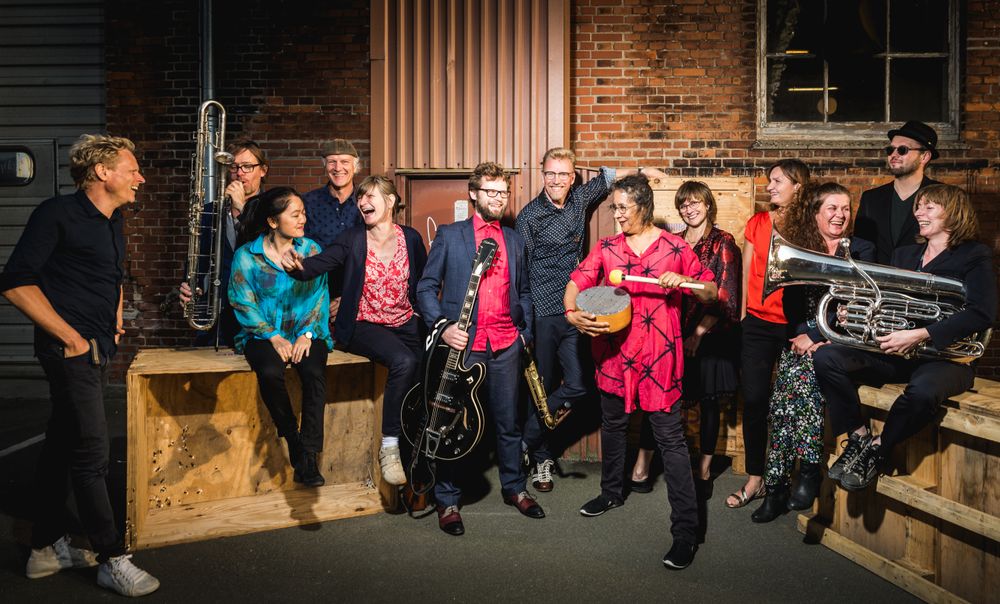 Visit Maluba Orchestras new home page
Maluba Orchestra is a 13 piece band founded and co-led by percussionist Marilyn Mazur, guitarist Kasper Bai and Fredrik Lundin.  
The band plays music written by the three founders. 
We three - Marilyn, Fredrik and Kasper - are not at all alike as composers, or as human beings for that matter. Nonetheless, each of us longed for a large band - one that could realize our most ambitious compositional ideas. In 2017, we decided to create such a group together, as we felt that our different gifts and sounds would lend themselves to one another 
We celebrated our range of breadth and diversity as strengths as we chose the musicians for the band. Thus, the 13 featured players come from all corners of the Danish contemporary jazz scene, representing a broad spectrum of playing styles, musical personalities and temperaments. 
Paradoxically, we believe that all these disparate elements allow our band to speak with a unique but recognizable voice of its own. 
- Album out on Sundance Records "Maluba Orchestra" (STUCD 19042)
- The album was awarded the Danish Music Award Jazz for Best Jazz Album Release in 2020 (equals a Grammy).
By the album at Marilyn Mazur's webshop
Maluba Orchestra are: 
Fredrik Lundin (tenor and mezzo soprano saxes and flutes)  
Christina von Bülow (alto saxophone and flute)  
Pernille Bévort (tenor sax, alto flute and bass clarinet)  
Jesper Løvdal (barri tone sax, contra bassclarinet, clarinet and alto flute)  
Tomasz Dąbrowski (trumpet)  
Maj Berit Guassora (trumpet and flugel horn)  
Mia Engsager (trombone)  
Annette Saxe (bass trombone and tuba)  
Kasper Bai (guitar)  
Makiko Hirabayashi (piano and keyboards)  
Klavs Hovman (double and electric basses)  
Bjørn Heebøll has replaced Emil de Waal (acoustic and electric drums)  
Marilyn Mazur (percussion)
Audio-excerpts from the album
Videos - Live at Jazzhus Montmartre august 2017
-Reviews of the album
"This is pregnant-with-portent-themed music full of subtle dramatic tension..""delightfully disorienting""Maluba Orchestra is stimulating and fascinating but also inconsistent and one gets the feeling its makers wouldn't have it any other way."
- Mark Keresman New York City Jazz Record February 2020
"The music is an absolute brilliant display of what European Orchestral Jazz is all about. It combines perfectly the entire kaleidoscope of Jazz sub-genres, from Swing to Free, and offers complex but coherent compositions, superb arrangements and of course sublime execution by the orchestra members."
"Each and every one of the composition is a true gem, and the entire album offers a diverse, stylistically and more importantly aesthetically perfect equilibrium of sensitivity and good taste, which characterizes European Jazz at its best."
- Adam Baruch The Sound Track of My Life
"colourfully orchestrated, vibrant debut"."Unlike so many attempts at contemporary genre-bridging, Maluba Rochestra's versality enhancesrather than inhibit cohesion and, hence, meaning."
- Selwyn Harris Jazzwise, February 2020
"ett riktigt spännande band som har hittat en egen väg vid sidan av det traditionella storbandsformatet och gör något nytt av jazz i stor ensemble. "
- Rasmus Klockljung Lira
"It's quite possible that you won't like everything you hear, at least to begin with, but there's so much variety, such a range of moods and textures in this music, that it'll charm you in the end." "..this Danish ensemble has evolved an idiom all of its own, in which improvisation and composition live happily together". 
"Not only is it exciting and full of surprises, it also amounts to a technical tour de force by all concerned." 
- Dave Gelly The Guardian 
★★★★☆
"Ein wirklich gehaltvolles und abwechslungsreiches Album mit spannender Musik. Das Maluba Orchestra hat die Klangfülle einer Big Band und die Frische einer jungen Kleinformation."
- Uwe Braütigam nrwjazz.net (Das Jazzportal für Nordrhein-Westfalen)
"Et magisk ensemble" 
["A magical ensemble"] 
-Henrik Palle 
❤️❤️❤️❤️ i Politiken 
"Der er så meget at glæde sig over med Maluba Orchestra." 
"Maluba Orchestra er meget let at holde af, når man som jazzfan sætter pris på nye originale og udfordrende kompositioner der får musikerne til, at vise deres bedste sider frem. " 
"Her fra bloggen får de en kæmpestor anbefaling." 
["There's so much to enjoy about Maluba Orchestra" 
"Maluba Orchestra is easy to love, when you're the kind of jazz fan, that appreciates new original and challenging compositions that make the musicians really shine". 
"Highly recommended by this blog"] 
- Niels Overgård 
Jazznytblogspot.com 
"das Ergebnis ist sehr abwechslungsreich und frisch im Ausdruck, sehr persönlich geprägt und wert, dass man sich dieses Klangerlebnis gönnt." 
"ein kleines Hörabenteuer ersten Ranges voller schöpferischer Energie" 
["the result is very varied and freshn, very personal and you should really treat yourself to this experience in sound." 
"a listening adventure of the first order full of creative energy,"] 
- Wolfgang Giese 
Music an sich "17" (=Sehr empfehlenswert)
 "man öffnet die ganz große der Postmoderne und freut sich, dass es von allem etwas gibt und das auch noch in ansprechender, wohldurchdachter Ausfertigung." "Dass trotz alledem eine äußerst homogene Klangwelt entsteht, spricht für die Klasse der dreizehn Musikerinnen und Musiker."
- Werner Stiefele, 21.09.2019 ⦁⦁⦁⦁
Rondo